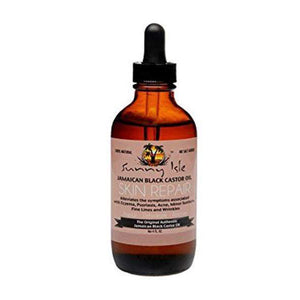 SUNNY ISLE JAMAICAN BLACK CASTOR OIL SKIN REPAIR 4 oz

Alleviates the symptoms associated with Eczema, Psoriasis, Acne, Minor Sunburn, Fine Lines and Wrinkles
- Repair, Rehydrate, Restore
- NO SALT ADDED

Rehydrate, repair and restore your skin to its former glory with our Jamaican Black Castor Oil SKIN REPAIR. This effective skin treatment uses the unique healing power of black castor seeds to turn back the clock and give you soft, supple, more youthful-looking skin. SKIN REPAIR is fast-absorbing, and unlike many other castor oils on the market, it will not clog pores. It's rich in vitamin E to help treat dry skin and reduces the appearance of fine lines and wrinkles. SKIN REPAIR provides instant relief to skin infections and alleviates symptoms associated with eczema, psoriasis, acne and minor sunburn. Use SKIN REPAIR and love the skin you're in!

Features & Benefits:
- High-quality, authentic organic Jamaican Black Castor Oil
- Delivers softer, smoother, more youthful-looking skin
- Rich in vitamin E
- Hydrates dry skin
- Reduces the look of fine lines and wrinkles
- Treats symptoms of eczema, psoriasis acne and minor sunburn

External use only

Sunny Isle Jamaican Black Castor Oil proud their Jamaican Black Castor Oil seeds are grown, harvested and processed by farmers in rural Jamaica. When you purchase SIJBCO products, you are not just getting the best in hair and skin care, you're helping farmers provide for their families.