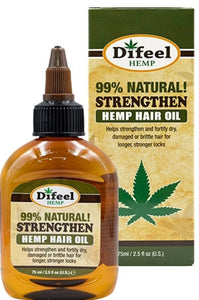 STRENGTHENING HEMP OIL FOR HAIR: Our Strengthen oil is both a quality hair treatment and a body massage oil.

HEMP HAIR OIL: Helps strengthen and fortify hair dry, damaged or brittle hair.

STYLING OIL: Fortifies for longer, stronger locks.

STYLING TREATMENT OIL: Contains Hemp oil with Pracaxi, Camellia, Avocado and Argan Oils.

STRENGTHENING HAIR OIL FOR FRIZZY HAIR: The Ultimate Hair & Body Oil.