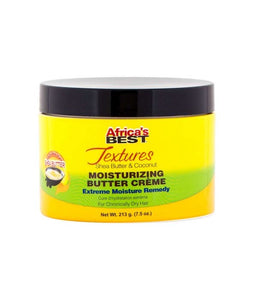 AFRICA'S BEST TEXTURES SHEA BUTTER & COCONUT MOISTURIZING BUTTER CREME 7.5 oz
Especially formulated to help prevent, repair and strengthen weak, damaged, split ends and to nourish and refresh chronically dry, brittle hair. Africa's Best Textures Moisturizing Butter Crme therapy seals in long-lasting hydration. Use it as a sealing butter while Protective Styling (including under weavers and wigs) as a daily use moisture remedy or as needed whenever hair feels dry and brittle. Excellent for all hair types and highly recommended for 3a-4c textures.

DIRECTIONS
Apply a small amount throughout hair as needed evenly distributing from roots to ends. Apply directly to weak, problem areas especially ends. As a sealing butter during protective styling, apply a small amount to the ends and twist, braid or tuck in ends during styling. To optimize your care regimen, shampoo with Africa's Best Herbal Care Sulfate-Free Shampoo and condition with Moisture Renew Deep Moisture Conditioning Treatment. And style with Shea Butter Curls Defining Curl Crme or Ultra Smooth Edges Gel.