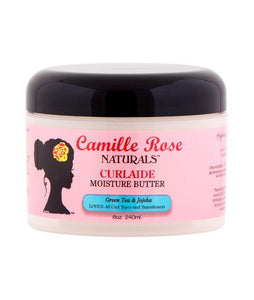 CAMILLE ROSE NATURALS CURLAIDE MOISTURE BUTTER 8 oz
Organic rice milk, green tea, jojoba, macadamia and slippery elm are infused to create this creamy blend so that your hair will feel moisturized and soft. Minimize breakage with nourishing shea butter fruit and coconut oil. Works great for wash n go's, two strand twist, locks and braids.

DIRECTIONS
Great on dry hair but can be used while hair is wet. Make sure every strand is moisturized with our butter blend for maximum results. Use entire line of Camille Rose Naturals products and enjoy!