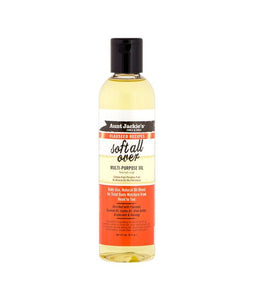 AUNT JACKIE'S FLAXSEED RECIPES SOFT ALL OVER MULTI-PURPOSE OIL 8oz
Head-to-toe therapy for great for hair, shiny, strong nails & smooth skin. Best for 3a-4c hair textures and all skin types. - Eco-friendly - Sulfate-free - Paraben-free - No Mineral Oil - No Petrolatum - Moisturizing Why AJ Soft All Over? Great oil elixir for all over softness and shine.
On hair, it is amazing oil therapy that can be used as a hot oil treatment for damage control, daily, as part of a protective styling regimen, or as a finishing step when styling for shine and softness. On the body, skin achieves a healthy glow and soft touch when used in place of body lotion, or as a bath water softening treatment. For either use, this nourishing oil penetrates and invigorates the scalp and skin. Flaxseed recipes with: Coconut: Penetrates hair shaft, strengthens, conditions. Grapeseed & Jojoba Oils: Lightweight, moisture sealant, prevents dryness, Penetrates hair shaft, promotes healthy growth. Shea Butter: Locks in hydration, softens, shines. Ginseng: Invigorates, helps increase collagen, improves elasticity.
DIRECTIONS Use daily, or as needed. Apply a small amount to dry areas, including: scalp, hair (can be used on wet or dry hair), nails, skin, and face. As a bath oil, pour 1/4 capful into warm bath water. As a hot oil treatment for hair, pour a small amount into hand, rub palms together and apply all over hair from roots to ends (apply a bit more for longer or thicker hair). Cover hair with a plastic cap and sit under a warm dryer for 10 minutes. Remove cap, and then thoroughly rinse all traces of oil from hair. Towel blot hair, and then style as usual.
To prevent oil buildup on hair and scalp, use Aunt Jackie's Sulfate-Free Purify Me Co-Wash Cleanser.