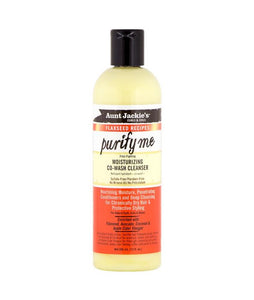 GREAT FOR: Chronically Dry Hair, Hair that is hard to get clean, Protective Styling. Rich in Omega Fatty Acids & Vitamin E, Flaxseed has been used throughout the ages to nourish hair follicles, and improve the overall health of the roots, shaft, and scalp. It is known for aiding in hair's strength & growth, and preventing hair loss and split ends. - Eco-friendly - Sulfate-free - Paraben-free - No Mineral Oil - No Petrolatum - Moisturizing
What is a co-wash? A cleansing process typically used by women with natural hair that involves shampooing with conditioner instead of a normal shampoo. Co-washing helps soften coarse hair and helps hair retain its natural oils. However, not all conditioners will thoroughly clean hair & scalp.
Why AJ Co-wash? No sulfates, which means it won't strip hair of its natural oils. Our unique conditioning cleanser thoroughly cleans hair & scalp, while heavily replenishing with moisture. Flaxseed recipes with: Coconut: Penetrates hair shaft, strengthens, conditions. Avocado: A carrier oil that helps prevent and repair damage, shines, softens. Apple Cider Vinegar: An astringent that cleanses scalp, helps prevent hair loss
DIRECTIONS
Thoroughly wet hair, then work in a moderate amount of Co-Wash Cleanser, gently massaging into hair and scalp. Do not vigorously shampoo. For thicker, coarser textures that are prone to tangles, starting at the roots, shampoo by gently raking fingers through hair, all the way to the ends, carefully working through tangles. Rinse thoroughly, and then repeat to ensure that hair and scalp are clean and impurities have been rinsed away. For best results, towel blot hair and follow with Aunt Jackie's Fix My Hair Intensive Repair Conditioning Masque.