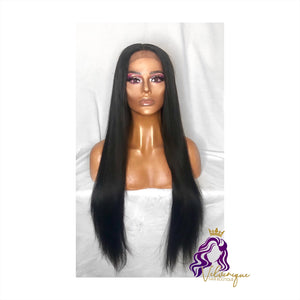 The Vienne 24" Unit is made out of Velvinque's Luxurious Virgin Hair Bundles in the Brazilian Silky texture.
When it comes to choosing your hair extensions, you can't go wrong with this Silky smooth finish. Straight hair displays elegance and beauty that is effortless. When rocking this hair all you need to do is straighten the hair to achieve a bone straight appearance and add a dime-sized amount of serum. 
The hair embodies beauty and royalty with its silky velvet tresses. Velvinque Brazilian Silky Straight bundles are a Crown fit for a Queen.
This unit is available for purchase in the standard length of 24", as well as custom made to order in whichever length is preferred. If you have further inquiries on customization processes, please email velvinquevirginhair@gmail.com